ABOUT
The Science and Engineering Apprenticeship Program (SEAP) places high school students in Department of Navy (DoN) laboratories where they take part in real Naval research for eight weeks during the summer.
SEAP gives academically talented sophomores, juniors, and seniors interested in STEM the opportunity to learn about Naval research and technology while receiving first-class mentoring by top scientists and engineers.
SEAP is a competitive program with around 300 placements in more than 38 laboratories around the country in which many participants go on to careers within the DoN. Interns are selected based upon academic achievement, personal statements, recommendations, and career and research interests.
How it works
SEAP places academically talented high school students with interest and ability in science and engineering as participants in Department of Navy laboratory research for eight weeks during the summer. Interns will be selected based upon academic achievement, personal statements, recommendations, and career and research interests.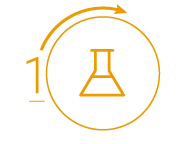 Students Research and Choose Their Preferred Labs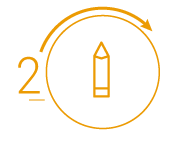 Application Period:


Apply by the Deadline

Applications Closed for 2024
Applications Open August 1, 2024 for 2025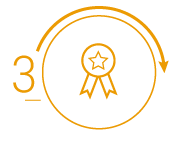 Review Period:


Labs Review Applications and Make Their Decisions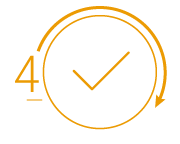 Award Period:


Award and Non-Award Letters are Sent Out

January 2024 - March 2024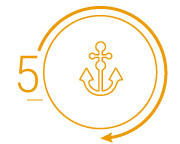 Interns Get Ready for Their New Adventure!
2024 APPLICATIONS
Progress
Eligibility
High school students who have completed at least Grade 9 (See exceptions below)
Must be currently enrolled in high school (but may be taking college level classes for college credit)
Graduating seniors are eligible to apply
Must be 16 years of age or older by the internship start date to participate (See exceptions below)
Solely U.S. Citizens (See exceptions below)
Exceptions
Students should check individual lab pages for eligibility as some labs make exceptions for the following:

Grade minimum
Age minimum
Permanent Residents and Dual Citizens
Duration & Stipend
The internship has a duration of eight weeks (with the possibility of extending up to two additional weeks). Stipend levels will be determined by the student's years of participation in SEAP and will be paid bi-weekly via direct deposit. Stipends are as follows:
New participant: $4,000
Returning participant: $4,500
SEAP GOALS
Encourage students to pursue DON science and engineering careers
Enhance education with mentoring by laboratory scientists and engineers
Enable students to participate in meaningful STEM research
Expose students to DON science & technology and research & development opportunities
Increase DON STEM internship opportunities for underrepresented groups
STEM Careers Start at SEAP!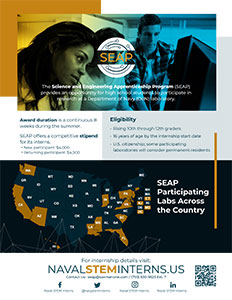 Download the SEAP Two Page Flyer (PDF) (2pp, 2 MB, About PDF). Print and Share. #NAVALSTEM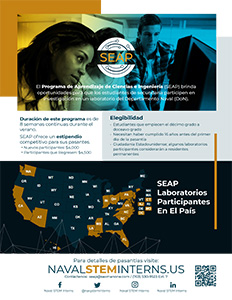 Descargar el SEAP Folleto De Dos Páginas En Español (PDF) (2pp, 2 MB, About PDF). Imprimir Y Compartir. #NAVALSTEM