SC State chemistry student and professor pave way the way for future NREIP students and faculty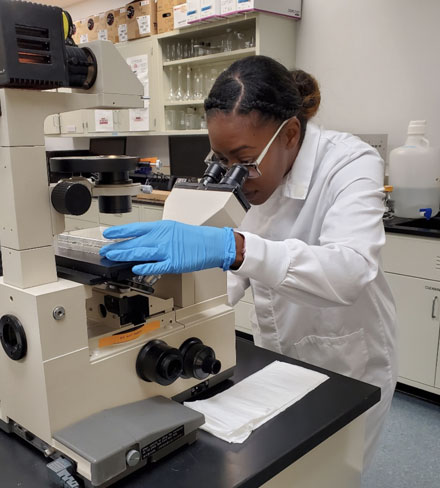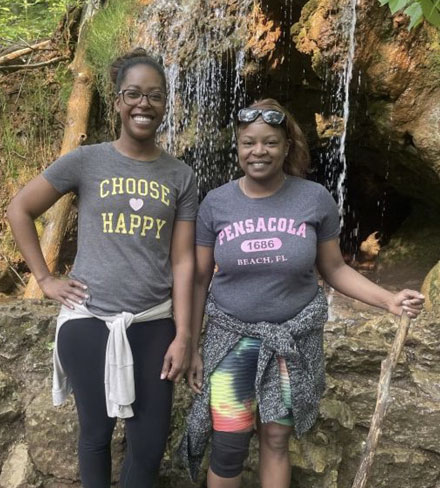 A South Carolina State University faculty-student team in the Department of Biological and Physical Sciences is opening doors and finding new opportunities for SC State students.
Dr. Courtney Thomas, SC State assistant professor of chemistry and biochemistry, and Patience Ferguson, a junior chemistry major, spent their summer performing toxicology research in the Environmental Health Laboratory f or the Naval Medical Research Unit Dayton (NAMRU- D) at Wright Patterson Air Force Base in Dayton, Ohio.
"This research positively impacts SC State by getting our name out there. We conducted great research and left a positive impression on the researchers at NAMRU- D," Thomas said. "The research we conducted will allow for future grants to be awarded to SC State in the area of toxicology research. This experience can produce partnerships between Naval Medical Research Units and South Carolina State University."
The Naval Research Enterprise Internship Program is a 10-week paid internship that exposes students and faculty to groundbreaking research in various scientific fields as it relates to military research interests.
During the internship, they conducted different research projects. Thomas did research that focused on the effects of diesel exhaust emissions inhalation and its by-products on the lung, while Ferguson conducted research on the evaluation and consideration of military exposures contributing to inflammatory states.
"The research I conducted is important because diesel exhaust inhalation does not just effect military personnel," Thomas said. "This is an issue for urban environments where more diesel vehicles are present, and agricultural environments where farming equipment is powered by diesel engines."
Thomas designed her project based on her research at SC State, focused on Advanced Glycation End products (AGEs) and prostate cancer, and the toxicology work being conducted at NAMRU-D. For the study, she first investigated the effects of diesel exhaust inhalation on AGE accumulation in lung tissue of rats exposed to various concentrations of diesel exhaust emissions.
She then investigated the effects of low molecular weight polycyclic aromatic hydrocarbons (PAHs) – by-products of diesel exhaust – on AGE accumulation in the lung. For this study, she used cancerous and noncancerous lung cell lines and exposed them to various concentrations of PAHs, increasing her experience with cell culturing.
"It was a very fun experience. I had never been to Ohio, only driven through it, so it was a lot of fun and I got to do a lot when I was not at work," Thomas said. "Also, the environment there was really nice. With the scientists that worked there, I was able to get hands-on experience that will actually help with some of the equipment that we have here at SC State that I didn't know how to use."
Patience Ferguson evaluates neuroinflammation samples in lab. Ferguson, along with Thomas, was able to gain a lot of experience she was able to bring back and share with others in her department. In Ferguson's research, the first component involved evaluating neuroinflammation in tissues of animals that were exposed to pressure fluctuations in cabins of tactical aircraft. The other experiment that she conducted evaluated tissues from pesticide-exposed animals.
Markers of neuroinflammation were evaluated in samples through microscopy. The second component of her research evaluated immune responses, autoimmune diseases and how environmental exposures contribute to the onset of immune dysregulation, such as lupus, which has been linked to military service exposures.
"I was really interested in doing this research because I studied environmental effects on humans. That's very important to everyone, not just the military, especially with how neuroinflammation can cause lung issues and breathing problems, along with cognitive thinking problems," Ferguson said. "I learned new basic and advanced laboratory skills, including pipetting, solution preparation, immunohistochemistry, microscopy, bioassays and fundamentals of animal research.
"I was introduced to the unique facilities behind exposure science. I also experienced central scientific concepts and I learned how to ask a scientific question, form a hypothesis, and research the hypothesis. This allowed me to understand how to use various databases and synthesize published research," she said.
After completing their research in July, they presented findings at the research lab, along with the Commanding Officer W.W. Dalitsch III Captain of the Medical Corps U.S. Navy. At their presentations, they were both awarded with a Naval Medical Research Unit Dayton Certificate of Appreciation.
"By me participating in the Naval research and receiving accolades, it sheds a positive light on our HBCU, SC State, and shows that us Bulldogs are always ready for the challenge – thanks to our professors' teachings, not only on the course objectives, but also values and life skills," Ferguson said.
This experience was a memorable moment for Thomas and Ferguson. After learning new research techniques, being exposed to new lab equipment, and making new scientific discoveries, they have become more excited about doing toxicology research.
They hope more SC State students are exposed to this kind of research and take advantage of internship opportunities like this.
"I will be applying for an internship with them again for summer 2024. I would also like to continue pesticide research this year with the school through Atmospheric Water Regeneration research and hopefully the Naval medical research unit will be more inclined to select students for their internship program from SC State," Ferguson said.